Back on popular demand!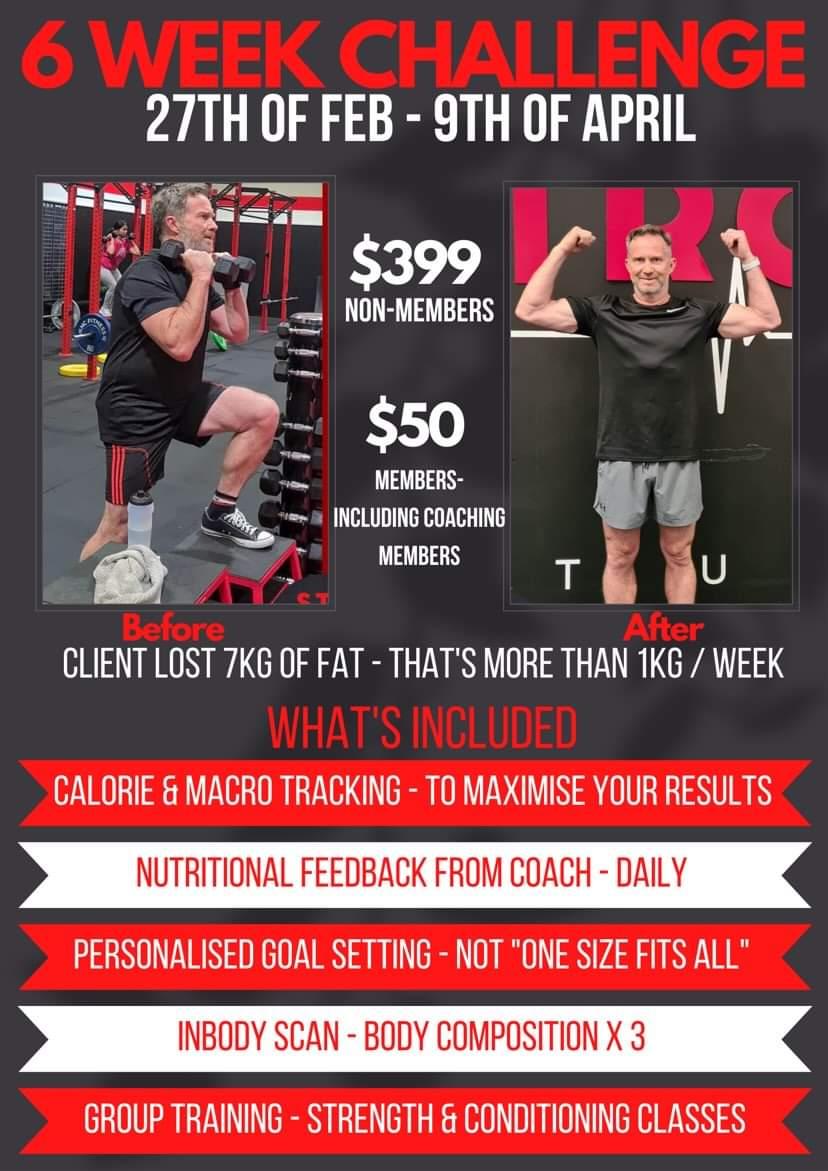 Our Six Week Challenge is back on popular demand after delivering strong results in the last challenge.
Why Wait? Join now! Limited Seats
Our program is designed for persons of all profiles, from young adults embarking upon fitness regime to seniors, looking to build muscle and lose weight! And most importantly, adopt a sustainable lifestyle to maintain your health and wellbeing.
Our proven 6-Week Challenge includes:
✅ Calorie & macro tracking to maximise results
✅ Nutritional Feedback from coach - daily
✅ Personalised goal setting because one size does not fit all
✅ InBody Scan - Body Composition Analysis X 3
✅ Group Training - Strength and Conditioning Classes
❌ Manageable training routines
❌ No excessive training
Contact Monica today to know more - mobile 0449 925 648 | email: contact@strongside.me to know more and sign up!
Spacious and airy gym in Oakleigh South
Strong Side Studio brings you Strength based training in group setting in a spacious and airy gym at Oakleigh South. In these times, we believe this is what you need. Ample free and easy parking available within and around the gym.
GROUP CLASSES WITH COACHING
Looking for Strength based training? Want to maintain or build muscles while losing weight? You are at the right place. Strong Side Studio offers strength-based gym group classes. The coaching focuses in building 'you' through training and nutrition. While we focus on strength, cardio is not ignored. Our program is designed to achieve holistic wellbeing, sustainable change and lifestyle. Our members come from all age groups (students, young professionals,people in forties and fifties etc.).
Strong Side Studio runs strength and conditioning classes Monday to Saturday. We have a great variety of lower body strength, upper body strength and cardio days to enable you to achieve your fitness goals. Our coaching membership offers you realistic goal setting, weekly coach check and fortnightly 'InBody' scan to measure your progression.
The classes are held in the morning from 06.00 AM, Monday to Friday, 08.00 AM on Saturday and in the evening 05.30 PM, Monday to Thursday and 06.00 PM on Friday. Class Timing.
Get started with a plan ($60, $65 or $70 per week), 28 day challenge ($249), 10 Class Pass ($250) or a free trial for 7 days! See below, what is covered.
Nutrition
Nutrition is key to success of fitness regime. We set your nutrition based on your goals and monitor it with you every week.
InBody Scans
Fortnightly InBody scans included for the regular and premium plans. Available for just $30.00 (or $50.00 for two) in the basic plan to enable you see your progress.
Endless Possibilities
We consider your ability to exercise and issues to devise program to enable you achieve your goal with ease.
Awesome Support System
Benefit from our friendly dedicated coaches who have many years experience in fitness industry.
CLASSES
Class Schedule for Monday to Saturday. Public Holiday Class runs at 08.00 AM.
MON
SQUAT
Morning
06.00 AM
06.45 AM
09.30 AM
Evening
05.30 PM
06.30 PM
TUE
BENCH
Morning
06.00 AM
06.45 AM
09.30 AM
Evening
05.30 PM
06.30 PM
WED
METCON
Morning
06.00 AM
06.45 AM
09.30 AM
Evening
05.30 PM
06.30 PM
THU
DEADLIFT
Morning
06.00 AM
06.45 AM
09.30 AM
Evening
05.30 PM
06.30 PM
FRI
UPPER BODY
Morning
06.00 AM
06.45 AM
09.30 AM
Evening
06.00 PM
PRICING PLAN
Three level of pricing to suit your needs. In doubt, trail free for one week!